Wet Tile Saw. A wet tile saw is the most recommended tool to cut porcelain tile and ceramic tile with. The tile's hardness is why the saw uses water over the top of the saw blade.
Wood is softer than tile. You can use a table saw, or a cabinet table saw to cut wood.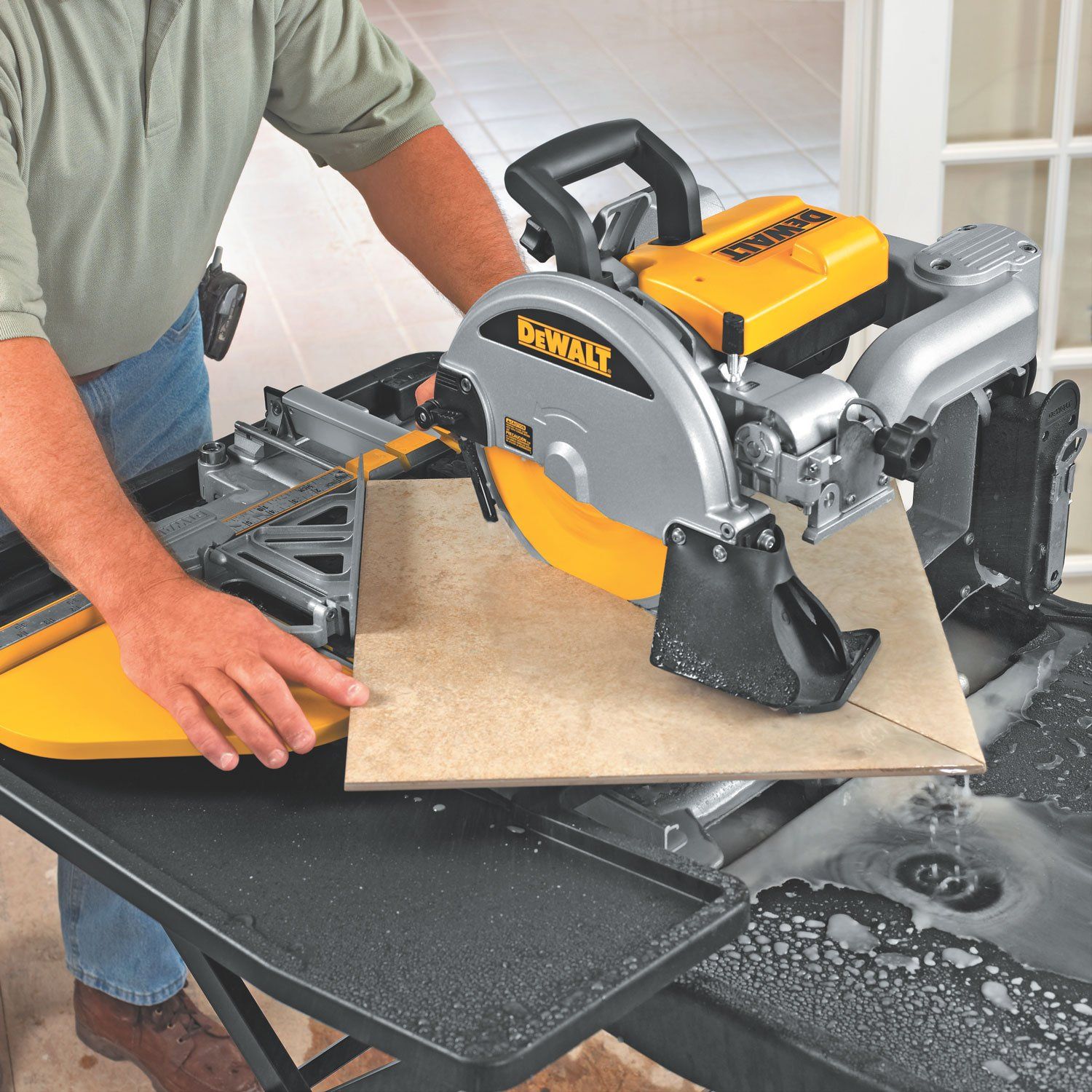 The blade heats up rapidly when cutting because of how hard and dense concrete tile or porcelain tile is. The water will cool down the saw blade and reduce smoking while cutting.
The water can keep the saw blade sharp. The sharpness can make the cut accurate.
---
What is a wet tile saw?
A wet tile saw is a powerful tool to cut tile that uses a diamond blade for faster, more efficient, and simpler tile cutting. The process of cutting tiles can be safe because it is wet.
A wet cutting process prevents dangers like dusting or burning.
---
The benefit of using a wet tile saw
1. Reliable diamond blade
The diamond blade price is quite expensive. You want to cut through tiles, porcelain, stone, ceramic, and marble tile with a blade that lasts a long life span.
Repetitive friction can quickly cause the diamond blade to overheat, and over time can cause it to crack, warp, or cause the metal bond to melt. A melted metal leaves the blade dull.
Even if you use the proper technique of cutting tile, you are going to reduce the cutting hours. So, whether you want to save money, having a clean-cut, or considering your safety, a wet tile saw is the best way to cut tiles.
2. Produce cleaner cut
If you want a professional cut on a DIY project, a wet tile saw can provide a cleaner cut. Water will lubricate and cool down the blade.
Any friction between the blade and the tile causes the tile to heat up, which will cause tile chipping and cracking. That will ruin your cut.
3. Reduce dust
Concrete, marble, stone, tile, and granite contain mineral silica. Mineral silica will not cause problems while cutting tile.
The problem comes when a diamond blade is grinding through silica. The cutting process produces silica dust that consists of microscopic size crystals of the mineral.
This would be dangerous when inhaled by a human. This dust can get embedded in the human lung tissue and can cause permanent and severe lung disease.
To avoid this dust, a user can wear special respirator masks at all times. If you are cutting tile using a wet tile saw, the water flows over the blade and tile. The wet environment reduces this silica dust, so you do not need to wear a mask.
4. Handle large project
If you are building a big house or other big construction jobs, a wet tile saw can help you get the job done. The power saw has a high horsepower that can easily cut anything, including more rigid tile material.
The power tool is designed for a larger room or larger project with complicated floor planning and tile design.
5. Fast speed
A wet tile saw can provide accuracy and more horsepower. The tool operates with excellent cutting speed. Handling harder or rigid and denser tiles will not be an issue. The cutting process can go faster to increase your productivity.
6. Versatile tool
The best-wet tile saw in the market today have a beveling feature. You may find this feature the most useful components.
You can handle any tile cutting with different and unique shapes for your flooring project. A specific and precise shape is possible to achieve with this feature.
You can cut a wide variety of shapes from curve to straight. This tool will help you with cutting porcelain, stone, ceramic, and glass with different forms. Many expert users consider the device as one of the most versatile tile saws.
7. An excellent choice for beginner
This power tool is a convenient device to use when it comes to cutting tiles. Its blade has no teeth.
It is easy to install and easy to use, especially for beginners. Take your time practicing with the device to become an expert user.
8. Durable
The saw blade can stay sharp for a long. With just one saw blade, you can do many jobs without replacement. Many models are equipped with a machine that is durable.
---
Main parts of wet tile saw
1. Safety guard
It is a part of the saw located above the blade that protects any flying dust or excess water while cutting. It will protect the user from getting any water splash or chip jump when running the power saw.
2. Water tank
The saw machine needs a water supply while rotating the blade. The water tank is used to store the water as lubricant and coolant required during the equipment's operation. Make sure the water tank is filled with water before starting the tool.
3. Bevel adjustment
You can slide this part and lock it on the shoe. Adjust the cut length of the tile precisely. You can easily cut the edge of the tile to 45 degrees.
4. The handle
You can hold the handle to move or maneuver the wet tile saw to any place you want.
5. The shoe
The shoe can guide you across the piece of tile. This part controls the saw blade's angle. The shoe also keeps the wet tile saw stay firmly on the tile.
6. The switch
When you want to start your wet tile saw, you can do it by pressing the trigger switch. Once you press it on, the wet title saw will start running.
When you are finished with the tile cutting, you can release it to turn the machine off.
---
Factors to consider when purchasing wet tile saw
1. The blade
The saw blade is the essential part of a tile saw. To finish a cut smoothly and clean, you can not use a dull blade.
They are making it easier to install the tiles that you are going to cut. The best blade for tile cutting is a diamond blade.
A diamond blade gives you perfect and beautiful cuts and will not leave sharp edges.
2. The mess
Cutting tiles with a wet tile saw can produce a mess. The water and the dust can mess the area that can cause problems and health hazards.
You can minimize this mess by purchasing a saw that can prevent the dust from getting into the air. Check out the spraying system for this matter.
3. Versatility
There are wet tile saw models that are designed to cut concrete tiles. Some models can make cuts like an L or a U cut.
It would be best if you prioritized accuracy for a specific job. If you want a saw that can do all kinds of cutting, prioritize versatility.
4. The size
There are many different sizes of wet tile saws. They can be heavy and oversized.
Purchase a power tool that can provide enough power for your needs. If you have a small workshop, you need to purchase a portable wet tile saw. You can carry the portable wet tile saw anywhere you like.
If you have plenty of room, you can purchase a big saw for more significant projects.
5. The power
Purchase a wet tile saw with the appropriate motor power for tile. A powerful tool will not damage your tiles, provide you clean cuts, and deliver smooth lines.
---
The best wet tile saw reviews
1. DEWALT Wet Tile Saw with Stand, 10-Inch (D24000S)
This DEWALT Wet Tile Saw with Stand (D24000S) can support 28-inches plunge cuts, and 25-inches rip cuts. It weighs 69 pounds, which is the lightest 10-inches wet tile saw.
Due to its weight, you can move it off or on the job site with ease. You can cut an 18-inches by 18-inches tile on a diagonal.
The accuracy the saw can provide is within 1/32-inches because of its stability. This wet tile saw product could provide excellent water containment.
So you can work on any tiles cutting project inside your home. You can also handle tough jobs with its aluminum framing and stainless steel rails.
It is equipped with a 1.5 horsepower 120 volts 15 amps motor that can go up to 4,200 RPM.
Adjustable water nozzle
1.5 horsepower, 120 volts motor
4,200 RPM
Weight: 699 pounds
Cutting capacity to rip cut 25-inches
28-inches plunge cuts
Accurate cutting to within 1/32-inches
Aluminum frame and arm
Side and rear water extensions direct water back into the tub
Adjustment of the pump's water feed and the nozzles
Beveling cuts to up to 45°
Onboard storage
A lightweight folding stand
---
2. MK Diamonds MK-370EXP 1-1/4 HP 7-Inch Wet Tile Saw
This MK Diamonds MK-370EXP wet tile saw had been designed to meet the CSA registered mark. This certification means that this wet tile saw product has been tested and certified to meet performance or safety standards.
The saw features a high-torque 1¼ horsepower motor for excellent cut quality every time. The saw blade capacity is a 7-inch blade for cutting a wide variety of materials.
You can use the saw to cut such as lapidary products, ceramic, porcelain, marble, granite, and slate. These features make the saw has the versatility to finish any project.
You can cut up to 2-inches in-depth, up to 18-inches in length, and 13 inches diagonally. Its variable height cutting head allows for cutting outlets with ease and plunge cuts.
Miter cuts
While in operation, the cutting head tilts to produce 45-degree miter cuts without any hassle. You can align and track the saw with its chrome guide-bar and linear bearing assembly and an adjustable rip guide to ensure accurate material alignment.
The water reservoir is made of thermoplastic that can support water flow at 95 gallons per hour. You can remove the 3-gallon water reservoir for cleaning, and it is designed not to peel or rust.
The tile saw has a hinged blade guard for easy access during blade changes and safety protection for safety and convenience. Its frame is made of zinc-plated steel to deliver strength and rigidity but still can provide portability weighing in at just 33 pounds.
A high-torque 1¼ horsepower motor
Maintenance-free
Self-lubricating pinion
Gear-box assembly
Tilting head for 45º miter cuts
Variable height cutting head for plunge cutting
Sliding aluminum die-cast
¾-inch diameter chrome-plated linear guide-bar system
Single piece zinc-plated steel frame
Rigid, strong, and durable
Hinged blade guard
Water pump receptacle
The removable thermoplastic water reservoir
7-inch diamond blade
Submersible water pump
CSA Approved
---
3. Delta 96-110 10″ Cruzer Wet Tile Saw
You can use the Delta Cruzer 96-110 Wet Tile Saw to cut tile and saw with high precision. It can help you cut a diagonal cut a 24-inches X 24-inches tile.
You can also make a 34-inches rip cut or a 39-inches cut using the plunge feature. The plunge cut can help you do V-Cap cuts and cut-outs for wall sockets.
It is equipped with a 15 amp, 120 volts, and 4,200 RPM motor to handle tough materials such as tile, porcelain, and stone.
The sliding table moves on stainless steel axles, rails, and wheels to produce unparalleled accuracy cuts. There is a significant extension for trays and support to collect water from the most oversized format tiles.
There is a snake pipe water system for optimum cooling to direct the water precisely. The pipe frame is made of steel, which makes it durable.
It comes with a wheeled folding stand or a scissor stand or the wheeled folding stand for one-person unloading and loading.
One 15 amp, 120 volts direct-drive motor
4,200 RPM
Stainless steel wheel, axle, and rail system
Motor tilts for 22.5° and 45° bevel cuts.
10-inch diamond cutting wheel
Heavy-duty rip fence
Removable extension table
Externally routed water delivery
Snake pipe water nozzle
Front access to the water tray
Blade guard with finger knob
Back-splash tray
Water pump
Blade splash guard
Divider in water tray filters to extends pump life
Heavy-duty rail system
Easy to install
Delta blade
1-year warranty
---
4. DEWALT Tile Cutter – Wet Tile Saw (D36000)
This DeWalt Tile Cutter (D36000) is equipped with 1.5 horsepower, 4,200 motors can provide enough power to cut tile. The 10-inches wet tile saw can deliver 37-inches rip cut capacity, 8½-inches crosscut capacity, and 1/32-inches over 30-inches accuracy.
Its crosscut capacity is an excellent fit for 6-inches sill cutting and up to 8-inches x 48-inches plank cutting at a 30% offset. It can also perform plunge cut up to 41-inches.
The DeWalt wet tile saw can pass through a 30-inches door frame with its 28⅞-inches width from column to cart edge. You need not worry about the mess because when the water tray system is installed, 18-inches x 36-inches and 24-inches x 24-inches tiles are contained.
You can move this wet tile saw because it weighs 91 pounds.
Cut-line indicator
Rigid frame
Stainless steel rollers for accuracy
Weight: 91 pounds
15 amp, 4,200 motor provides 1,220 MWO
Fully contained tiles within the water tray system
Integrated storage
Submersible pump
Water pan
Side water trays
Rear water trays
Cutting cart side extension
Angle/rip guide
Blade wrench
Hex wrench
---
5. MK Diamond 169612 Wet Tile Saw
This MK Diamond 169612 is a 10-Inch wet tile saw for cutting tile, marble, and porcelain. It is equipped with 1½ horsepower, 120 volt Baldor electric, a fully enclosed and thermally protected motor.
Its blade shaft bearings are dual-sealed and permanently lubricated. Both sides of the blades are water distributed.
The wet tile saw has a variable height cutting head to cut different tile sizes. This saw can handle 6-inch and 8-Inch profile wheels.
Commercial grade
120 volts, 1½ horsepower, fully enclosed, high torque, fan-cooled motor
3,450 RPM
Permanently lubricated, dual-sealed, heavy-duty blade shaft bearings
Built-in water distribution system supplies
Variable height cutting head for plunge cuts
Micro V-belt drive
Blade shaft lock
Linear-bearing and chrome-plated guide-bar assembly
Cast aluminium blade guard
1 reinforced zinc-plated steel frame
CSA Approved.
1-year limited warranty
---
6. Ryobi Wet Tile Saw WS722
The Ryobi Wet Tile Saw can help you rip cut 20-inches tile and 13-inch diagonal cut. It can cut through up to 1¼-inches thick of ceramic, porcelain, and stone tiles.
You can set up the portable wet tile saw fast with its compact size. The stainless steel table tilts for 45 degrees and 22.5 degrees angles of bevel cuts with accuracy.
The wet tile saw features a rip guide that locks in place on the rear and front rails to make sure precision and straight cuts. It is powered by 120 volts, 60 Hz, 4.8 amps motor with a motor speed of 3,450 RPM.
Motor: 120 V, 60 Hz, 4.8 Amps
3,450 RPM
Blade Arbor: 5⁄8-inches
Blade Diameter: 7-inches
Cutting Capacities: 20-inch rip cut or 13-inch diagonal cut
1¼- inch depth of cut
7-inches diamond cutting wheel
Overfill drain
Splash hood assembly
Miter guide assembly
Rip guide
---
7. Ridgid Wet Tile Saw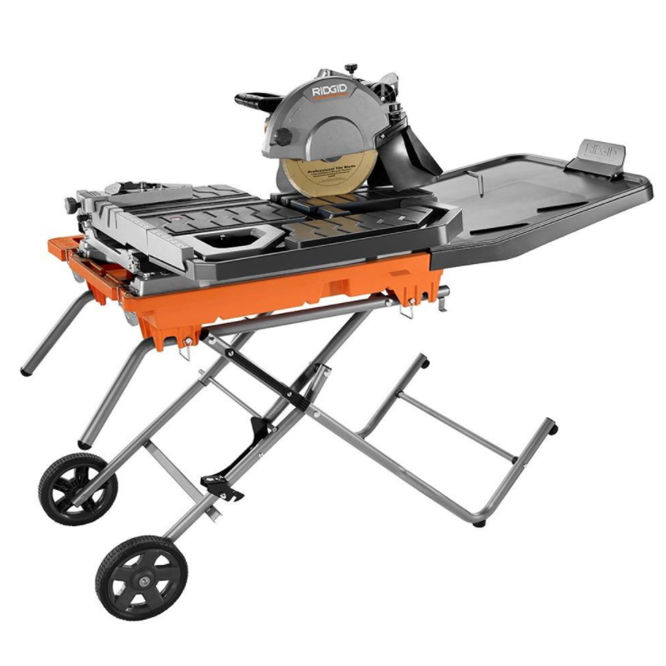 RIDGID wet tile saw comes with 15 amps, 3-3/10 horsepower, 120 volts, and 4,000 RPM motor. It can help you cut through the porcelain, pavers, and stone materials.
The wet tile saw can cut 24-inches diagonal tiles and 34-inches large format tiles. To provide accurate and clean cuts, the saw comes with a laser guide, optimized water nozzle system, and miter guide.
There is a 10-inches diamond cutting wheel. The material is made of aluminum. You can do plunge cuts with this tile saw.
34-inches rip cut
24-inches diagonal cuts
Folding/removable stand
8-inches wheels
Die-cast aluminum table
Co-molded rubber work surface for 28-inches of tile support
Cleaner work area
Tray storage
Water tray isolation walls
The optimized water nozzle system
Adjustable Laser Alignment System
Full coverage splash guard
Precise straight and miter cuts from 0 – 45° left and right with miter guide
Bevel cuts angles: 0°, 22.5°, and 45°
Plunging head
High volume water pump
Lifetime service agreement
---
7 Wet tile saw comparison chart
| Model | RPM | Volts | Warranty | Price |
| --- | --- | --- | --- | --- |
| DEWALT Wet Tile Saw with Stand, 10-Inch (D24000S) | 4,200 RPM | 120 volts | 1-year | Check Price |
| MK Diamonds MK-370EXP 1-1/4 HP 7-Inch Wet Tile Saw | 6,000 RPM | 120 volts | 1-year | Check Price |
| Delta 96-110 10″ Cruzer Wet Tile Saw | 4,200 RPM | 120 volts | 1-year | Check Price |
| DEWALT Tile Cutter – Wet Tile Saw (D36000) | 4,200 RPM | 120 volts | 1-year | Check Price |
| MK Diamond 169612 Wet Tile Saw | 3,450 RPM | 120 volts | 1-year | Check Price |
| Ryobi Wet Tile Saw WS722 | 3,450 RPM | 120 volts | 2-year | Check Price |
| Ridgid Wet Tile Saw | 4,000 RPM | 120 volts | Lifetime | Check Price |
---
How to use a wet tile saw
1. Safety equipment
Because of the messy nature of a wet tile saw, you need to wear safety equipment. You need to wear your ear protection, gloves, goggles, and face mask.
Always put on your safety equipment and read the manual instruction carefully.
2. Set up the working area
Select an area for working with tiles where there are no obstructions and well lit. There should be a power outlet to power the wet tile cutter.
Since wet tile cutting involves water supply, you might want to consider covering the floor within the work area with sheets of thick plastic to protect against water and mess.
Make sure that the floor is level and firm without any crack or damage. You can work steadily with an excellent work surface to support the wet tile saw. When they are ready, you can set the machine in place.
3. Prepare the wet tile cutter
Fill the water reservoir with clean water. The level of water must cover the recirculating pump.
Plug the power cable into an electrical outlet. If the location of the outlet is far away, you extend with an extension cord. For extra protection, use a GFCI protection.
Ensure the drip loop is lower than the outlet and the saw, so the water cannot spill the cord and penetrate the outlet.
4. Get ready to cut
Before you begin to cut, it is recommended to draw a cutting line. You can use a marker to draw the line on the tile.
An adjustment to the guide fence to determine the cut's width should be made after the marker is drawn. For bevel cut with angles you want, adjust the miter gauge to the angle as necessary.
Position the tile you want to cut on the bed of the saw. Immediately adjacent to the miter gauge or the fence.
Inspect the placement of the blade against the cutting line on the tile carefully. Pull your tile back in front of the saw blade.
5. Divide the tile
Turn on the wet tile saw. Warm up the blade until it reaches its full speed. See if the water is hitting the blade for cooling.
The splash should not be too wildly. You need to adjust the water flow as instructed by the manual instruction.
Steadily but slowly, push the tile towards the spinning saw blade. Use both your hands to hold the tiles firmly away from the blade.
Avoid forcing the tile through the blade. The tile should be cut gradually until it is divided.
When the tile reaches its back end, slow the speed down. It would be best if you slowed down because the tile may break at this stage.
When the tile is divided, turn off the switch of the saw machine. It would be best if you waited for the blade to stop entirely.
When it is completely stopped, you can remove the tile.
6. Change the water
Even after just one cut, the water reservoir will become dirty. It is filled with sediments.
There should be messier after you have made repeated cuts. Replace the water when it becomes too muddy or is obviously clogged with particles.
Remove and rinse out the reservoir. Refill it with clean water. After that, you can start new tile cutting.
---
A wet tile saw maintenance
1. Clean and sharpen the saw blade
After repeated cuttings, resins and pitch build up on the edges of blades. The blade becomes dull because it is coated.
You can rub the edges with a damp cloth and citrus cleaner to get rid of any residue on the edges of the blade.
Other factors such as friction and heat increase can make the blade dull also. Dull blades are more hazardous than sharp blades.
The strain on the saw will be reduced if you cut at maximum efficiency. It is wise to clean the blade after each use. It is also a good idea to clean the blade two or three times a year.
Consider sharpening or buying a new one if the blade is dull and can not be repaired.
2. Avoid rust
Even if you have carefully maintained your wet tile saw blades, they may rust when stored in a storage. The humidity of the damp and cold storage can damage your power tools over time.
One way to avoid rust is to install a dehumidifier in the storage area.
You can also use silica gel packs inserted into your toolbox and storage containers for rust prevention.
The last method is to spray the saw blades with a protective coat while they are stored.
3. Inspect the motor
Carefully inspect areas of the motor. Make sure there are no loosen bolts or other parts.
The fluids are supposed to be at proper operational levels. Check the belts (if any), any belts, pulleys that are worn or not appropriately in place.
Replace worn parts if they are damaged or cracked. You have to make sure that everything is hand-tightened with a wrench.