Best Cabinet Table Saws For Woodworking. Cabinet table saws are enclosed design saw which looks like a cabinet. These saws are constructed to be used for professional woodworkers who want reliable and quick access to many tools and accessories that they require in an instant of working with any workpiece.
Cabinet table saws contain complete construction than other table saw that make them the right choice for anyone looking for serious power.
They are built from iron material or steel with heavier tensioning mechanisms for working with denser materials. Cabinet table saws come with arbor assemblies and mighty motors that can reduce vibration when operating.
---
The benefits of a cabinet table saw
---
Cabinet table saw components
The riving knife on a cabinet table saw is a crucial piece of safety equipment for the saw. It is a flat piece of metal that is attached aft of the saw blade.
When you start pushing a chuck of the workpiece through the saw blade, the knife will keep the two cut sections of the workpiece from closing up. This mechanism will avoid causing a very dangerous kickback.
When you are doing rip cuts, kickbacks often occur. But still, the riving knife cannot prevent the kickback entirely. The best thing to avoid kickback is the safety rules of use for a cabinet table saw.
You must wear proper clothing, safety glasses, and hearing protection to keep your hands away from the saw blade. When you are operating the table saw, stand in a distance where you will be less likely to get an injury.
You can keep all of your push sticks, other accessories, and table saw blades within easy reach with an accessory tool holder. Without a doubt, you will use many tools in your shop.
Sometimes you will encounter a problem where you have to keep track of all the accessories in the shop. These tools and accessories always end up disperse things all around the shop.
This tool holder is one way to clean up the clutter. It is easily accessible when you need your tools.
You might think that a blade guard is to keep your fingers safe. That is accurate, but its primary goal is to prevent the workpiece from falling on a spinning blade.
The falling of the workpiece can happen when reaching over the blade to grab a cutoff and dragging it or dropping it over the blade, which may cause it to shoot back at the operator. Blade guard can protect you or the operator from a cutoff piece flying back at you in a kickback situation.
If you use a riving knife, there will not be a kickback. The blade guard can keep any small chips from flying into your eye. So in any situation, you should wear safety glasses.
While in operation, a blade guard can provide finger protection. It serves as a visual reminder to always keep your fingers away from the blade.
The blade guard can block your fingers from the back and side. Table saws cut very fast, and if your fingers are getting near to the saw blade, the blade guard will not protect your fingers.
Blade guard will remind the operator where to position the hands before starting a cut. It will take the hand from skimming over the blade.
This will occur if you are reaching over the spinning blade to grab an off-cut.
The handwheel is a vital part of the mechanism that allows an operator or user to raise and lower the saw blade. It would be best if you referred to your model's manual instruction for the exact location and correct handwheel installation.
The most high-quality handwheel is made of durable plastic. It is sold as a replacement part or an individual component.
You can replace it as a simple task and does not require any tools. All you need to do is remove the elevation lock by hand and attach the new replacement handwheel.
Since the cabinet table saw is a valuable tool in your workshop, the cross-cutting wood would be its primary function. You will do the cross-cutting, even if you own a miter saw.
How to get accurate cuts is challenging, and all table saws come with a miter gauge. The appearance of the miter gauge is the same and works the same.
A miter gauge contains a thin and long metal guide that rides in the miter slot in the table of your cabinet saw. A half-moon shaped head is attached that pivots on its connection point to its guide.
This pivoting section can be locked into any angle (from -45 degrees to +45 degrees). Once a plank of wood is placed against the gauge's fence, and the board and miter gauge is slid forward across the saw blade.
The wood is cut at a precise angle. Some miter gauges come with positive stops to let the gauge be set at the most commonly used angles fast (90-, 45-, 30-, and 22 1/2-degrees angles).
Table saw kickback can occur when one board or wood is trapped between the blade. The table saw fence gets flung back at you after the cut is completed.
This kickback can be dangerous, and a push stick very handy. Push sticks or push blocks should be used when operating standard woodworking machinery, including jointer/planers, shapers, table saws, band saws, and radial arm saws.
These push sticks protect your hand while letting reasonable hand control of the stock as it is pushed through the blade or cutting head. Push blocks for planers/jointer should be constructed for two-handed positioning.
When you spend more than $1000 on a new cabinet table saw, you could end up purchasing a mediocre blade. You endure that blade until it is too dull to use, then you will finally buy a new good quality one.
There are many choices, and it could not be very clear. Should you spend money on a high-quality blade? The answer is yes.
The quality of cut, which trickles down to happier experience, better result, better precision, and better joinery, and for the longevity of the blade. Pricier blades are meatier and more durable carbide teeth that stay sharp longer.
These blades can withstand more sharpenings over the long haul because of the carbide. In the long run, you will spend less money on blades.
If you choose a $100 or more blade, you will get longer service life than you would with a lower-end blade.
---
Factors to consider when purchasing cabinet table saws
The blades
You should consider purchasing a high-quality saw blade. The higher the price, usually the better quality.
You should also purchase the more suitable saw blade for your cabinet table saw.
The price
If you are going to purchase a new cabinet table saw, you must select a table saw in a professional capacity. With an expensive cabinet table saw, you should expect serious woodworking with many projects to get done.
You want to have the most from your investment from your tools, and you have to make sure the table saw is going to get the proper operation to justify the expense.
The motor
With the right power and saw blades, you can have cuts in dense and hard material. After having a high-quality saw blade, the power of your cabinet table saws must be a priority.
For work piece or wood measuring 2-inches or less, you can purchase a 1 to 2 horsepower motor cabinet table saw. The power is enough to handle most general woodwork projects.
A 3 horsepower motor can provide the most powerful saw for hardwood and dense material. A 3 horsepower motor is sufficient to saw through every material and more substantial stock.
The stability
While in operation, a cabinet table saw must be stable. The stability will improve safety.
You can work on more substantial projects without having a fear of getting harm. You do not want your cabinet table saw to topple under the weight of your wood stock.
They are rather heavyweight and stay firmly in position. If you need or want a cabinet saw that you could maneuver, it is not the one to choose.
It is also referred to as the weight distribution. You have to make sure the weight is balanced and make sure that the saw has a low center of gravity.
A lighter saw with the right placement of the weight is a better choice. A poorly balanced cabinet table saw will topple easily as a more lightweight model, and because of the added weight, it will cause more damage.
Dust collector
Sawdust can be dangerous to your lung in the workshop. It is a carcinogen.
You might want to consider installing a dust collector in the workshop to extract sawdust. An effective dust collector can protect your lung and can make you breathe easier.
Some dust collector models have a dust collection bag below the saw. Extraction ports connect to the shop vacuum and suck the sawdust away through installed pipes. A dust collection system is the best way of getting rid of the sawdust on your cabinet table saws.
Accurate
A cabinet table saw with excellent stability, torque, and power can provide accurate results. The tool will not be disturbed by denser material.
The result should be the best results you always expect, no matter what material you are cutting. It would be best if you looked for elements that improve the saw accuracy and performance.
If there is an anti-vibration belt, this component can make the saw quieter when in operation and reduce the vibration. No vibration can mean enhancing accuracy.
It would be best if you discovered underneath the infrastructure of cabinet table saws when you are looking for the best accuracy.
The safety
It very important to follow the manual instruction of cabinet table saws because these tools are the worst power tools for harm and injuries. Thousands of workers suffer injuries from table saws.
To avoid such danger, you can look for a saw with a large paddle switch positioned at knee height so that you can shut the power off in an emergency.
---
8 best cabinet table saws reviews
#1. Shop Fox W1819 3 HP 10-Inch Table Saw with Riving Knife
Shop Fox crafted these high-quality table saws that come with a blade guard, a quick-release riving knife, and splitter assembly. To handle accurate cuts, there is a miter fence and T-fence with a flip stop.
The T-fence is maneuverable because it sits on nylon runners. It can be cam locked to keep it stable and steady for making intricate cuts.
---
#2. Delta Power Tools 36-5152 Delta Left Tilt Table Saw
This cabinet table saw weighs only 305 pounds which is preferably a lightweight option. With this feature, it is the ideal selection for home woodworking.
This product comes with the right and left extension. The maximum rip capacity is 52-inch with a tabletop made of cast-iron.
This cabinet table saw can provide stability and maximum support with its tubular stand. There are two fixed wheels and one rotating wheel for moving it around with ease.
The motor is 1.75 horsepower, enough for home woodworking projects.
---
#3. Powermatic 64B 10″ Table Saw
This Powermatic 64B cabinet table saw comes with dual-voltage 1-3/4 horsepower to support professional contractor with also left tilt arbour. The blade guard can protect the operator from injuries that have independent leaves.
There is also the quick release riving knife for minimizing kickback. It also includes one low profile riving knife to provide non-through cuts for tool-less mounting and removal.
To eliminate the need for dual blade wrenches, it comes with an arbour lock that can be accessed from above the table. This Powermatic power tool has T-slot miter gauge with rack-and-pinion angle setting.
One great way to support the expanded work piece, the table saw is equipped with an extension plate and positive stops. You can easily reach your other accessories which can be hooked with the storage hooks on the stand.
The table is made of cast iron with front edge bevel wings. User can the melamine-surfaced wood extension table further expands the working area extension table.
This cabinet table saw have 50″ or 30″ rip cut capacity (Accu-Fence® system). Powermatic 64B has a micro-adjusting miter gauge with an extension plate.
---
#4. Jet Deluxe XACTA SAW Table Saw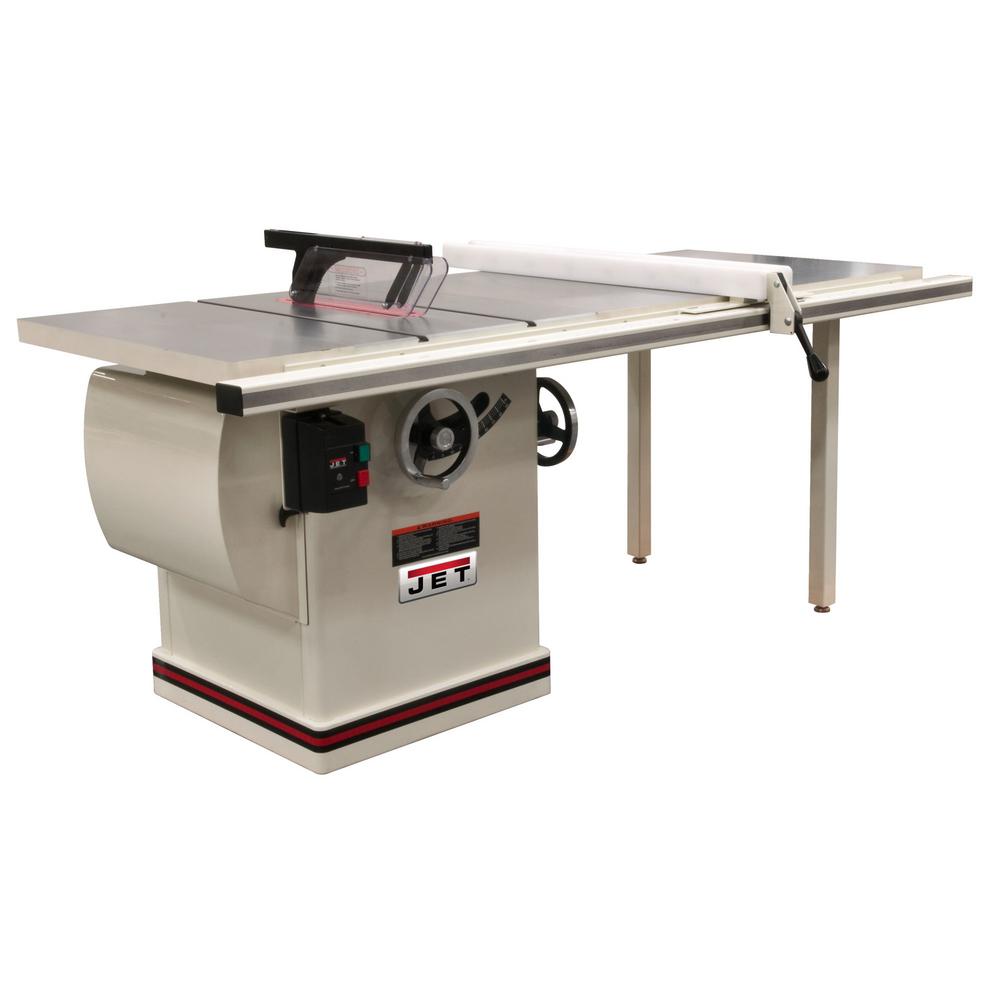 This JET Deluxe XACTA table saw comes with a quick-release riving knife, and the integrated arbour lock maintains the operator efficient and safe. It is equipped with a Poly-V belt drive system for optimal power transfer, smooth operation, and a fully shrouded blade for dust collection with efficiency.
The added 26-inches x 30-inches wings and in-depth cast iron table for more space to work on. For quick access to any accessories, a storage drawer sealed from the cabinet. The other features are an on-board fence and miter gauge storage.
---
#5. SawStop 10-Inch Professional Cabinet Saw
The Sawstop 10-inch Cabinet Table Saw comes with a 52-inch fence that uses its safety system for protecting you by shutting motor automatically anytime your skin comes in contact with the blade. This product offers a durable cast-iron table with extension wings.
For an exceptional power, the cabinet table saw is equipped with a three horsepower 60 Hz motor. A T-glide fence system will handle operation improvement and decreasing deflection.
Its bearings and arbour are heavily for lasting durability. The three horsepower motor possess a static dissipative arbour belt to prevent hazardous charges.
You can easily change the brake cartridge, and you do not need to worry about dust, because of the dust collection port that can remove 99 per cent of dust. This cabinet table saw features carbide-tipped saw blade teeth resistant to dulling.
---
#6. Grizzly Industrial G1023RLWX
This Grizzly table saw has an extendable table that increases the size from 27-inches to 40-inches. It features the easy-glide fence, the triple V-belt drive system, and a magnetic switch with thermal overload protection.
The power tool also includes support legs and a universal T-track router clamping system, and the fence. It can make laser straight dadoes without having to change saw blades.
It is equipped with a five horsepower 240-Volt, single-phase motor, enough for any project. A cast iron table is heat-treated to remove war page and milled flat.
The extra-large hand wheels are the heaviest in the industry and ease the arbor movement.
---
#7. Powermatic PM1000 1791001K Table Saw
The price of this Powermatic table saw is not the cheapest, but the features it offers make it excellent value for the money.
It features a 50-inch fence, cast iron table, a dust collection port for dust elimination, and a bump switch for emergency stop. The motor is a 1.75 horsepower, enough for small wood project.
---
#8. Jet 725001K ProShop II
The JET ProShop II Cabinet Table Saw is a high-end cabinet saw with a compact design. It is an ideal choice for any contractor.
A transparent blade guard protects you with independent leaves and the quick release riving knife for reducing kickback. The fence system is available in 30-inches, or 52-inches rip capacity.
---
8 Best cabinet table saws comparison chart
Image
Product
Details
Price
Shop Fox W1819 3 HP 10-Inch Table Saw with Riving Knife
– 3 horsepower motor
– 2-year limited warranty
– 10 blade size
– 29.5 rip fence size
Check Price
Delta Power Tools 36-5152 Delta Left Tilt Table Saw
– 1.75 horsepower motor
– 5-year limited warranty
– 10 blade size
– 1 rotating wheel
– 2 fixed wheel
Check Price
Powermatic 64B 10″ Table Saw
– 1.75 horsepower motor
– 5-year limited warranty
– Storage hooks
– T-slot miter gauge with rack-and-pinion angle setting
– Low profile riving knife
Check Price
Jet Deluxe XACTA SAW Table Saw
– 30-inches fence with T-square design
– Rail-mounted magnetic switch
– Storage drawer
– 11-inches right and left cast iron extension wings
– Poly-V drive belt system
Check Price
SawStop 10-Inch Professional Cabinet Saw
– 52-inch fence
– 2-year limited warranty on saw
– 1-year fence system warranty
– Cast-iron table with extension wings
– 3 horsepower 60 Hz motor
Check Price
Grizzly Industrial G1023RLWX
– Blade guard
– Locking magnetic switch
– Safety STOP paddle
– Steel cabinet type stand
– Poly-V serpentine belt transfers
Check Price
Powermatic PM1000 1791001K Table Saw
– Arbor lock for blade changes
– Hands free power switch
– 7-inches hand wheels
– AccuFence for precision and rigidity
– Cast iron table for smoother operation
Check Price
Jet 725001K ProShop II
– Convenient, magnetic paddle switch
– Single belt design to reduce vibration and easier belt tensioning
– Motor reset switch
– On board storage for accessories
– CSA certified
Check Price
---
How to maintain cabinet table saws
Rust-free
As you may have known, rust is the biggest concern of your cabinet table saw. You can avoid rust with simple maintenance.
Purchase a carnauba-based paste wax or any car wax to maintain your table saw rust-free. You can take the initiative by using a damp sponge with car wax.
Rub it into the table all the way. Let it dry afterward.
Use a clean cloth, clean the surface. You have to make sure that the table is dry.
For added protection, add a second coat. Be careful not to touch the slots and miter gauge.
To ensure the table saw is rust-free, you have to do this simple maintenance every other month. You will get the benefit of having a table free of rust, smooth, and allows the work piece to glide right along as well.
You need to follow the manual instruction for further detail.
Clean the table saw
If you use your cabinet table saw frequently, your saw assembly can get pretty gummed up from debris, dust, and dirt. The only thing to do is clean it up will to prevent any damage and run like new.
Before you begin:
Unplug the saw.
Take off the saw blade, the throat plate, and the blade guard.
Inspect carefully for any resin buildup.
Once you see them, clean them off.
Now, this is necessary. It would be best if you had an air compressor to spray dust out of the crevices and gears.
Using a toothbrush and steel wool, start scrubbing off the remaining debris in the gears. Apply the car as mentioned above wax in a thin layer using a toothbrush.
When you are finished, put everything back together.
Align the saw blade of the cabinet table saws
Usually, quality saws will not need an alignment. Cheaper models might require alignment as often as every time you work.
What ever model you own, you need to check the saw alignment almost always. By doing this, you will have better cuts and improved overall safety.
Bad alignment can lead to several issues. You can have burnt wood edges, kickbacks, or harmful cuts.
Saw alignment is a good rule for every other saw you use, like miter saws, jigsaws, and circular saws.
All you need to do is use a blade that is straight. You can check that by placing it on a very flat surface.
Ensure that that saw is vertical (in this case, 0 degrees). Both the bevel stops are accurate (approximately between -45 and +45 degrees).
Inspect the throat insert and ensure it is aligned to the surface of the table saw. You have to be certain that the riving knife or splitter is perfectly lined up with the blade.
Check also the miter slots that have to be parallel to the blade. The other components to check are the outfeed support and tabletop, which have to be entirely flush with each other.
Rip fences, miter gauge stops, or other stabilizing accessories must be checked.
Lubrication
After you clean and polish everything, you can apply lubrication to the trunnions on the inside and the gears. Purchase a dry silicon-free lubricant. Do not use wet lubricants because they tend to accumulate more debris and result in a gum-like substance.
Check the alignment of the motor pulleys and arbor. If the belts need to be replaced, then do it immediately.
---